Interested in making your child care program more breastfeeding friendly, then check out the last Building Blocks of Breastfeeding Friendly Child Care monthly webinar series, Applying for Breastfeeding Friendly Designation on October 12th (1-2pm). All registrants will receive a confirmation email with login information before the session. All webinars are free of charge.  Each session offers 1.0 NCDCDEE Contact hour after completing a post-evaluation.  Please spread the word.
Breastfeeding Friendly Child Care Designation Opportunities!
Child Care / By Breastfeed Orange NC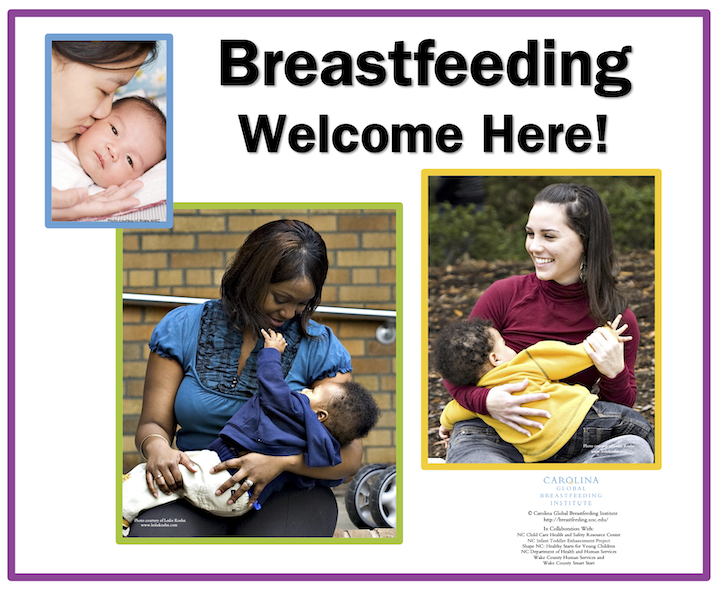 We are excited to share two Breastfeeding Friendly Child Care Designation opportunities.
The local Breastfeeding Friendly Child Care designation that includes technical assistance from the Orange County Partnership for Young Children or Breastfeed Durham.
The recently re-launched North Carolina Breastfeeding-Friendly Child Care Designation (NC BFCCD).
LOCAL DESIGNATION WITH TECHNICAL ASSISTANCE
You may have checked out the NC BFCCD and are not sure how to begin. Or you might have completed a standard, such as creating a private lactation space; however, you would like support to complete others, such as developing a policy and curricula ideas.
We want to help you succeed in your goal to become breastfeeding-friendly and to prepare for the NC Breastfeeding-Friendly Child Care Designation! We are offering a local designation. It includes technical assistance to help you fulfill the requirements of the designation standards. The local designation is tailored to your needs. You can request assistance for each standard or for just some standards. When you have completed the local designation, you will receive a Breastfeeding Welcome window cling and will be added to the Breastfeed Orange NC or the Breastfeed Durham website. You also will be set to complete the NC BFFCD.
NC BREASTFEEDING-FRIENDLY CHILD CARE DESIGNATION
The North Carolina Division of Public Health, Nutrition Services Branch, has recently announced that the North Carolina Breastfeeding-Friendly Child Care Designation (NC BFCCD) is available again and accepting applications.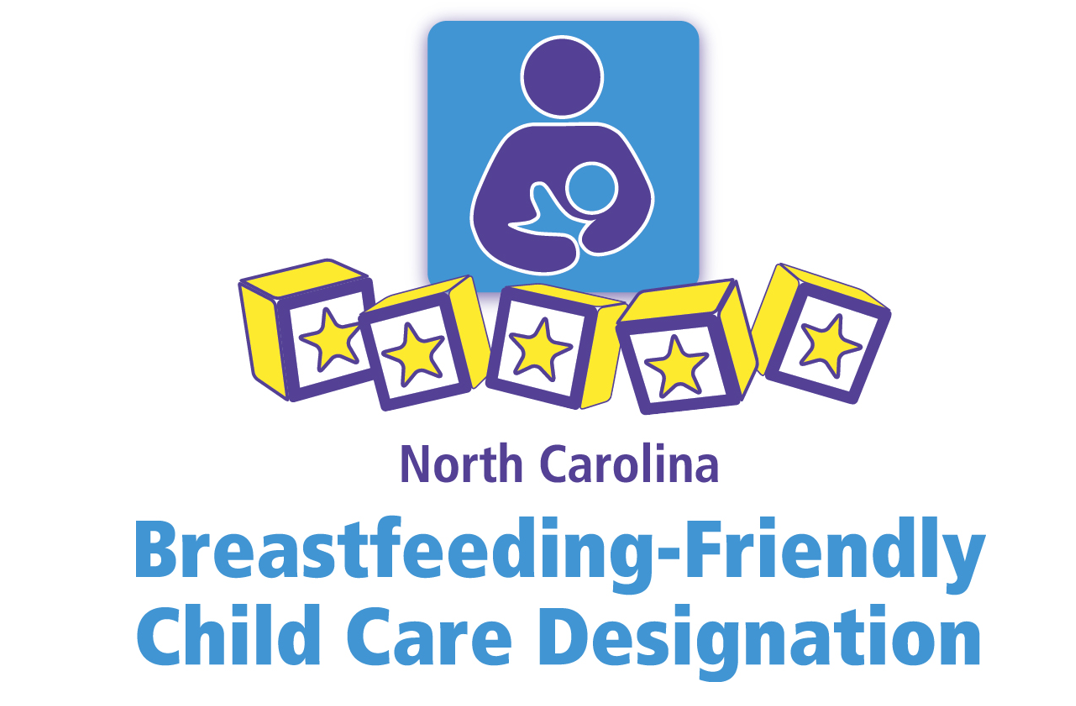 "Childcare programs are essential partners in supporting parents' infant feeding goals. The NC BFCCD recognizes and promotes childcare programs that implement practices and policies to create a breastfeeding-friendly environment for their families and staff. In North Carolina, over 80% of parents initiate breastfeeding… However, when children are routinely cared for by someone other than their parents, parents are less likely to achieve their breastfeeding goals…[Families] are looking for childcare programs that will contribute to their breastfeeding success…"
Through the NC Department of Health and Human Services, child care programs are awarded the NC Breastfeeding-Friendly Child Care Designation for achieving five standards of breastfeeding-friendly child care. The standards – written policy, community connections, professional development, environment, and curriculum – are based on the 10 Steps to Breastfeeding-Friendly Child Care from the Carolina Global Breastfeeding Institute.
Still wondering if the designation is right for your childcare program?
We know that breast/chestfeeding is important for optimal growth and development and provides life-long health benefits for a child. Human milk builds up an infant's immune system and reduces the risk of diarrhea, pneumonia, and ear infections, common illnesses for children, especially in the childcare setting. Welcoming families to bring their milk or to breast/chestfeed in the classroom will help to reduce the risk of illnesses for all students and staff.
While breast/chestfeeding may be natural, it is not always easy, and it can be especially hard for parents who return to work or school. Many parents are back to work before successfully establishing their milk supply, or they find it challenging to maintain their milk supply after returning to work or school. The welcoming support of your childcare program will help families to achieve their infant feeding goals and will help to create a healthier classroom environment for all.